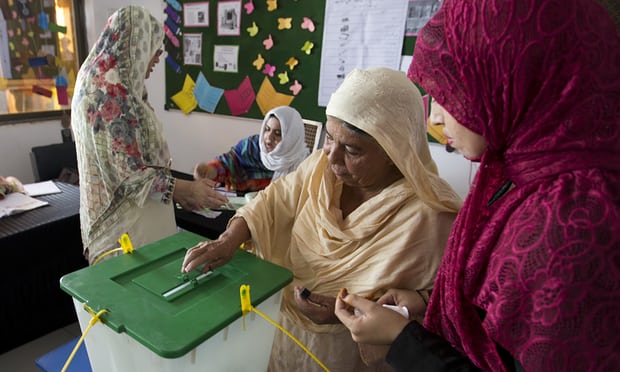 In Pakistan's third elections since 2018, there have been widespread complaints by political parties, civil society and international media of rigging on a large scale. All day long there were reports of violence, allegations of pre-poll manipulation and the arrangements put in place by the Election Commission of Pakistan.
Both PML-N and the PPP "said their monitors in many voting centers had not received the official notifications of the precinct's results, but instead got hand-written tallies that they could not verify. "It is a sheer rigging. The way the people's mandate has blatantly been insulted, it is intolerable," Shehbaz told a news conference as the counting continued. "We totally reject this result," he said. "It is a big shock to Pakistan's democratic process." The PPP also complained that its polling agents were asked to leave during the vote count in a number of voting centers.
"This is the warning bell of a serious threat," said PPP senator Sherry Rehman. "This whole election could be null and void, and we don't want this."
The Election Commission of Pakistan, however, delayed announcing the final results stating  "counting had been delayed by technical failures in an electronic reporting system and the tallying was now being conducted manually. The results had been due by 2 a.m. (2100 GMT). "There's no conspiracy, nor any pressure in delay of the results. The delay is being caused because the result transmission system has collapsed," Yaqoob said. Chief Election Commissioner Sardar Mohammad Raza later defended the process after Sharif's party and at least four others contesting the elections alleged the counting was manipulated. "These elections were 100 percent transparent and fair," Raza said. "There is no stain. Why don't you think the five political parties might be wrong?"
The Guardian in its report titled "Widespread allegations of election rigging," pointed out that three major Pakistani parties, the Pakistan Muslim League-Nawaz, Pakistan People's Party and Muttahida Qaumi Movement, have all "alleged voting irregularities, including that polling agents were not allowed into polling stations and voters were not given forms on time. The run-up to the election has also been plagued by widespread allegations that the powerful military was working behind the scenes to skew the contest in cricketer-turned-politician Imran Khan's favour. His main rival Nawaz Sharif, who was jailed on corruption charges this month, has long had tense relations with the military and accuses the military of orchestrating his conviction.
Muttahida Qaumi Movement-Pakistan (MQM-P) leader Faisal Sabzwari said election officers aren't providing certified election results and have thrown polling agents out during ballot counts."
The Human Rights Commission of Pakistan (HRCP) in a statement noted: "that the ECP's performance leaves much to be desired. While the latter has carried out its clerical functions reasonably well, the political content of its work has fallen short of expectations. Polling schemes were poorly rationalized, with many voters in the Lahore Cantonment, for instance, indicating they did not know where to go to vote. Numerous observers have also reported that many polling stations were clustered together, but too small to cater to the number of voters. As a result, the polling process remained sluggish through the day. This, compounded with ill trained staff in many cases, meant that many people who reached their polling station in time were compelled to queue outside the premises for want of space, but were not let in to cast their vote.
The HRCP also took "received complaints through the day that, in many areas, women were not allowed to vote: HRCP hopes that legal action is taken against any such people who denied women their right to vote. The Commission also notes that, in some places, polling staff appeared to be biased toward a certain party, with voters who had received slips from another party's stall being turned back on flimsy grounds. In at least one instance, women voters reported being asked whom they intended to vote for. Such instances are serious contraventions of the law and HRCP hopes that these will be promptly and transparently addressed."