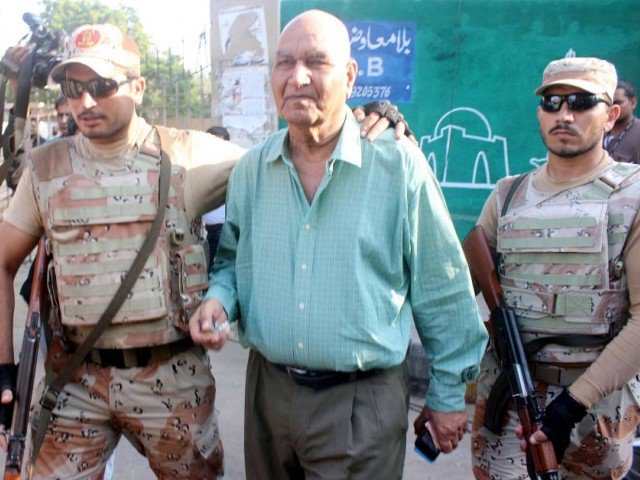 Dr Hassan Zafar Arif, a prominent professor of Philosophy at the University of Karachi, was found dead in the back seat of an abandoned car. His body bore torture marks similar to those found on the bodies of other victims of enforced disappearances.
Dr Arif had joined MQM last year —a party that has been targeted for repression by the Pakistani state. He was arrested last year and warned to abandon the MQM, whom the Pakistani deep state deems a threat the state.
How secure can a nuclear-armed state be if it feels threatened by a 72-year old Philosophy Professor and feels compelled to torture and kill him?
The govt tried to lie and claim that Dr Arif died of natural causes even though videos circulated on social media of the dead body, showing torture marks clearly.
Are we to believe the victim tortured himself, drove to the city's outskirts, and then sat in the backseat of his car to die a natural death?
Here is Zia ur Rehman's article on Dr Arif, from The News:
"Dr Hasan Zafar Arif was found dead in a car in Ibrahim Hyderi on Sunday morning. After disappearing from the public eye for several years, the left-leaning intellectual and former philosophy teacher had returned to Karachi's political scene on May 15 last year when he announced joining the Muttahida Qaumi Movement (MQM).
"His move was surprising for many of his colleagues as well as the people who knew him personally because he had joined the MQM at a time when the Rangers were leading a crackdown against the party and, more importantly, after former party leaders Mustafa Kamal and Anis Qaimkhani had formed the Pak Sarzameen Party, prompting mass defections.
"I joined the MQM for two reasons," Dr Hasan had told this scribe after joining the party at the Karachi Press Club. "Firstly, the party has been facing state repression, and secondly, for achieving the rights of the residents of Karachi. As a socialist, I feel it is the right time to join the party."
After joining the MQM, he brought in some of his leftist colleagues – such as Sathi Ishaq Advocate, a key Pakistan Peoples Party (PPP) leader in Karachi, and Momin Khan Momin, former president of the National Students Federation – and started delivering lectures to the party's cadres on global, national and organisational issues."