Interior Minister Chaudhry Nisar was on the subject of several jokes on social media yesterday after giving the statement that 'no terrorist network is capable of operating in Pakistan'. It was an unfortunately stupid thing to say, especially so soon after the death of Punjab Home Minister Shuja Khanzada in a terrorist attack only a few days earlier. However, Chaudhry Nisar is not completely to blame for this verbal errancy. The same confusion has been projected from GHQ since the past year.
Pakistan Air Chief Marshal Sohail Aman announced that operation Zarb-e-Azb has 'broken the backbone of terrorists'. GHQ has also declared that operation Zarb-e-Azb had 'crippled' command and control system of TTP. DG ISPR Major General Asim Bajwa announced that due to operation Zarb-e-Azb, Taliban capacity to carry out terrorist attacks had been neutralised.
Despite these premature announcements of victory, terrorist attacks continue. This is the point where the so-called intelligentsia respond by pointing out that the number of attacks is down. "Almost to 2006 levels!" Good. Glad that Zarb-e-Azb is having some effect. However a decrease in attacks is not the same as defeating terrorism. Actually the only reason that things are looking better is because we allowed them to get so bad. Eliminating cancer from your lungs does not make you cancer free if there is still cancer in your body.
Unfortunately GHQ has a long history of trying to force reality into existence with wishes, as if saying something enough times will make it come true. We saw this in 1971…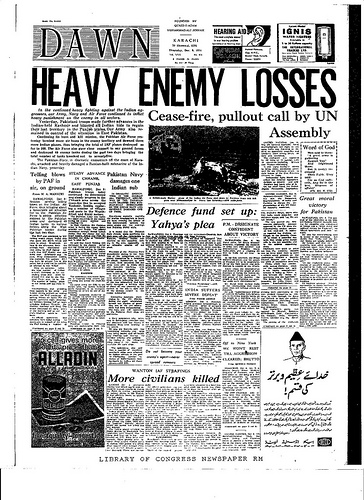 And we saw it again when GHQ bought every copy of a book about 1965 war by one of our own generals in order to hide the embarrassing information inside.
For decades GHQ has taken a strategy of trying to forcibly manipulate reality through control of information. This strategy has been a proven failure, as is perfectly apparent from the state of the country today. It's time to try a new strategy for once: Honesty.