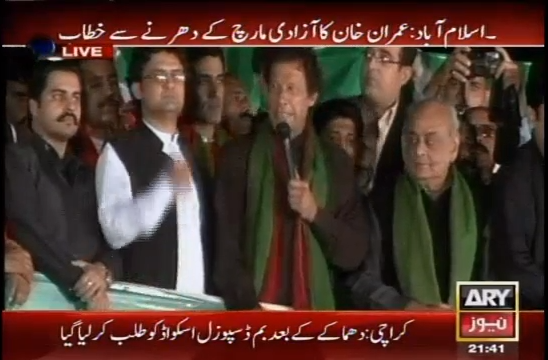 PTI has faced accusations of being supported by ISI since long. Imran Khan has always denied these allegations, even offering to quit politics forever if anyone can provide proof that PTI has taken money from the spy agency. Suspicions persist, however, and questions are likely to continue after the appearance of a certain agency figure on stage with Imran Khan.
At a recent PTI rally in Islamabad, frustration with the party's failure to carry out a 'democratic revolution' was the theme, and the rallying cry turned from election reform to outright violence when Sheikh Rasheed declared that,
"Waqt aa gya hai inn chorron aur kami kameeney logon sey mulk ko nijaat dilaney ka!Niklo maaro, mar jao, jilao, ghirao aur iss mulk ko inn choron aur beimaan hakumat sey nijaat dilao!"
This is unsurprising behaviour from the AML chief, however. Actually, it was another speaker whose mere presence alongside Imran Khan on the stage spoke volumes. I am speaking of course of former spymaster Brig (r) Ijaz Shah.
Before joining PTI, Ijaz Shah has quite an interesting CV. In 2002, Shah was allegedly a handler of Ahmed Omar Saeed Sheikh, the jihadi terrorist most famous for his involvement in the murder of American journalist Daniel Pearl. According to report, Shah secretly spent a week with the terrorist before he was allowed to talk to the police. During his interrogation, Sheikh confessed to everything except his time with Ijaz Shah.
The sole subject he refused to discuss was the week he had spent with his ISI handlers.

"I know people in the government and they know me and my work" was all he'd say.
In 2004, Gen Musharraf appointed Shah High Commissioner to Australia, only to have the Australian government reject Shah "out of concern over his links to terrorists," so Gen Musharraf made him Director General Intelligence Bureau. In 2007, while he was DG IB, Benazir Bhutto named Shah as one of the conspirators planning her murder. In 2012, former DG ISI Ziauddin Khawaja disclosed that it was Ijaz Shah who arranged Osama bin Laden's safe house in Abbottabad.
Now, Ijaz Shah stands next to Imran Khan on PTI's stage.
With exception of Sheikh Rasheed, Imran Khan has tried to keep links with extremist elements like Hamid Gul and Hafiz Saeed at arms length, preferring to send emissaries rather than appear in person. With the failure of his August 'Azadi March', has he decided to adopt a more open relationship? In the words of PM Nawaz Sharif, "Where there is smoke, there is fire." Openly inviting spymasters like Ijaz Shah to speak at ISI rallies adds fuel to the fire, doesn't it?