One of Imran Khan's favourite lines is to blast un-named leaders who are 'addicted to dollars'. The insinuation is that by not taking any dollars, Imran Khan alone is pure from Western influence. But as with so much about Kaptaan, the truth is actually more complicated than his rhetoric.
In a recent attack on Prime Minister Nawaz Sharif, Imran Khan declared that those 'who keep their assets overseas cannot be expected to safeguard the interests of their people and secure their country's sovereignty and territorial integrity' and blasted both PML-N and PPP for trying to 'protect their particularistic interests, especially financial ones lying overseas'.
But the truth is that Imran Khan's PTI is largely funded by dollars. In fact, Dollar Khan spent much of 2012 flying around America collecting dollars to fill PTI's coffers. One particularly exclusive event demanded $5,000 US (Rs572,388) for the privilege of speaking with Kaptaan and receiving an autograph!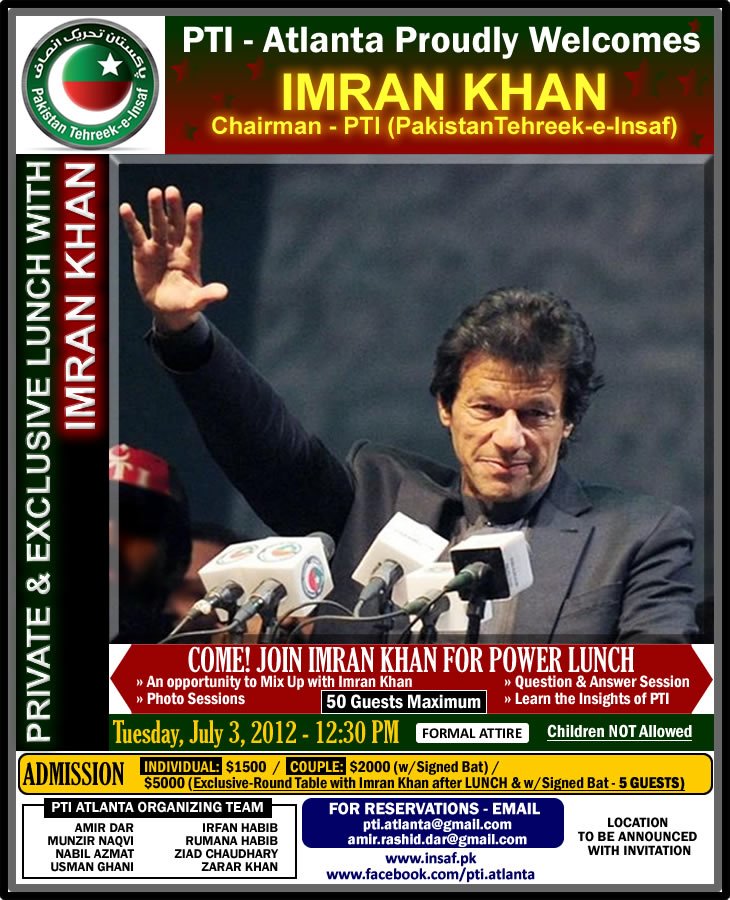 Imran Khan's American fundraising tour was so successful that his party openly bragged about how many dollars they were collecting.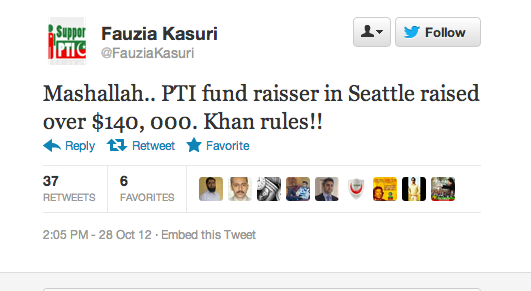 Despite gladly grabbing as many dollars as possible from people who have 'stashed their assets overseas', Imran Khan puts on a different mask when he speaks to the masses.
An important lesson 4 all Pakistanis is 2 realise that leaders with wealth stashed abroad will never be able 2 stand up 4 nation against USA

— Imran Khan (@ImranKhanPTI) December 31, 2013
Ironically, even PTI leader Fauzia Kasuri who bragged about how many dollars PTI was collecting was an American citizen until just a few months ago, only giving up her prized US passport when Imran Khan required it for her to be given power in his political party. Actually, her American citizenship is how Fauzia Kasuri was able to so easily travel across America collecting dollars for Imran Khan. If people 'with wealth stashed abroad will never be able to stand up for the nation', then what are we to make of Imran Khan's own party leadership?
In bashing anyone who disagrees with him as 'dollar addicts' and 'those with wealth stashed abroad', Imran Khan plays to the lowest form of hyper-nationalism. That would be bad enough, but the fact that he says this while inviting Americans pour dollars into his pockets makes him the worst sort of addict – one whose addition is so deep it blinds him to his own hypocrisy.