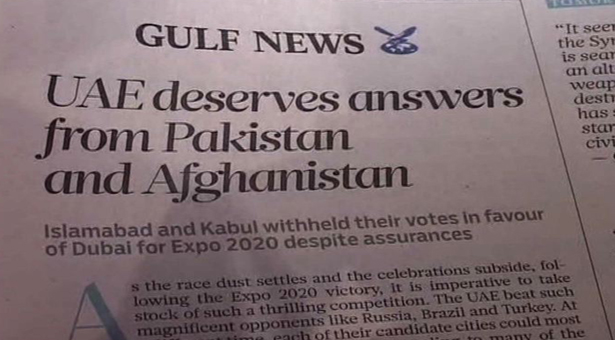 In the hyper-nationalist mindset, Pakistan never makes a mistake, and anyone who suggests otherwise is an enemy that must be defeated. This mindset manifests itself in different ways, from Army blaming Indian TV dramas for Kargil disaster to government's resolution praising convicted war criminal Abdul Quader Mollah as 'supporter of united Pakistan till the time of his death'. Typically, this mindset targets countries like India or America, but even Islamic countries can find themselves the target of hyper-nationalist venom if they dare to question Pakistan's decision, as is highlighted by the current controversy over Pakistan's vote for host of Expo 2020.
Over the weekend, Gulf News, the most widely read English newspaper of UAE, published an editorial asking why Pakistan and Afghanistan chose to vote for cities other than Dubai. In response, a hyper-nationalist website published a piece attacking Gulf News and spreading anti-Arab venom. The author, Dan Qayyum has penned a vicious tirade against the editorial as 'bigoted, baseless, and despicable'.
Despite all these accusations, though, the author doesn't actually mention any specific attack against Pakistan made by the newspaper other than to question why we voted for Turkey instead of UAE. And the only excuse the author can come up with for Pakistan's vote is that we had pledged to support Turkey before Dubai had entered its bid. This is a poor excuse if there ever was one. As the writer notes, 'voting is a democratic process, with each voter having the right to vote for whichever candidate it wishes, without having its motives questioned or explanations demanded'. So when Dubai entered its bid, why couldn't Pakistan simply tell Turkey that with the changing situation, it would have to reconsider its decision to give independent and fair chance to all entrants? During the last elections, many people may have supported one party early in the campaign and then changed their mind at some point and voted for a different candidate. This is perfectly legitimate in a democracy.
Actually, why it makes no sense why Pakistan would not support Dubai is even explained by Dan Qayyum himself:
Since its inception, UAE's relations with Pakistan have been exemplary. Pakistanis constitute one of the largest and most diverse set of expat communities in the UAE, woven into the fabric of the local economy. Pakistanis own and run business, restaurants, retail outlets, educational institutions, and are the third highest investors in Dubai's real-estate market. Pakistanis have also worked for decades as waiters, construction workers, delivery men, and taxi drivers. Pakistan's government has been a key contributor to the UAE in setting up its vital national institutions since the late 70s, including Emirates Airlines which today stands proud as the World's leading carrier.

Among the first aircraft flown by Emirates in mid 1980s were an Airbus A300 and Boeing 737, leased from Pakistan. Pakistani crew worked hand in hand with their Emirati counterparts in getting Emirates in the air. Even today Pakistani military and civilians contribute massively in training and assisting their Emirati counterparts in many technical fields.

The UAE has been appreciative of Pakistan's contribution to the evolution of key institutions in the Emirates such as armed forces, police, health and education, and has reciprocated in the same friendly manner to the full satisfaction of Pakistan. It has been one of Pakistan's key supporters diplomatically and is responsible for a number of development programmes in Pakistan. The UAE is among Pakistan's most important economic and trade partners.
What is more intriguing, though, is that the Gulf News editorial claims that Dubai had been given assurances by Pakistan for its vote and was surprised when Pakistan voted for Turkey instead. End result, Gulf News asks for an explanation, saying that if they cannot count on Pakistan's support for something like Expo 2020 vote, how can they count on Pakistan's support in more serious situations? Were assurances given to UAE? Or was there some simple misunderstanding? Dan Qayyum conveniently forgets to address any of these questions, choosing instead to respond with a vicious attack.
While harsh, a reasonable person would not consider the Gulf News editorial as a 'disgusting attack on Pakistan' or that the newspaper was 'attempting to sow discord among the populace' as claimed by Dan Qayyum. In fact, Pakistan was not even the only nation mentioned by the piece. Even if he disagreed with the editorial, or thought it too harsh, a reasonable person would respond with an explanation and an attempt to preserve good relations.
Dan Qayyum's reaction is typical of the hyper-nationalist mindset and why it is a failure for Pakistan: It only knows how to attack, even against friends. Highlighting just how divisive this mindset is, readers can note how quickly Dan Qayyum's hyper-nationalist venom is digested and spread by the readers who describe Arabs as 'desert rats' and accuse Gulf News of being 'dominated by Indians' in their comments.
The entire vote controversy is a storm in a tea cup that could easily be extinguished with a simple explanation of Pakistan's vote that puts the matter to rest once and for all.  If anything, Dan Qayyum's arrogant response demanding 'a front page apology and the immediate resignation of those responsible' is likely to go further in sowing discord – a fact proven by the hateful anti-Arab reader comments – a position Pakistan can not afford to take with a nation like UAE.
UPDATE: New reports reveal that Pakistan had given assurance of vote to UAE before the vote.