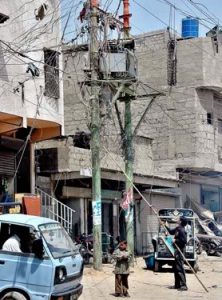 Next time the lights go out, think about the fact that state agencies owe Rs70 BILLION in payments for electricity. Before we go making the usual complaints about corrupt politicians ruining everything, take a look at the list of defaulters…
Supreme Court: Rs3.5 million
ISI: Rs8.2 million
IB: Rs2.7 million
FIA: Rs8.3 million
Punjab police department: Rs140 million
Islamabad police: Rs20 million
Rangers (Punjab): Rs52.25 million
Rangers (Sindh): Rs75 million
Of course the usual suspects are present also, Pakistan Railways, Senate, etc etc etc.
The point is that nobody is innocent. We all want electricity, but no one wants to pay for it. Dawn says that "the onus is on the government, which regularly raises power tariffs, to show the way and desist from its profligate use of electricity."
Which is convenient, obviously. We'll pay our share as soon as the government pays its share.
But we're a democracy now.
Which means the government is us.
Time to pay the bill.