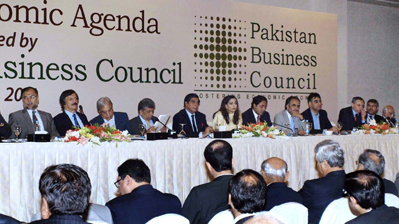 Earlier this week I wrote that "Meeting the needs of the people requires compromise. It requires the willingness to work with other people – even those you don't agree with. It requires the organizational capacity of a political party, not cheap publicity stunts and sound bites. It's always easiest to say 'no'. Finding a way to get to 'yes' takes real leadership."
Thankfully, it looks like some people are showing some real leadership by working together to find common ground from which to formulate a national economic agenda that focuses on the welfare of the citizens.
Dr, Farooq Sattar from MQM said that the balance of economic power is shifting from West to East and if we could not correct our fundamental economic wrongs we would left far behind in the regional economic race.

"We need to design a charter of economy which may be formulated with mutual consensus. Moreover there should be no injustice in tax system. Tax should be levied on every type of income. Tax net should be enhanced including bringing agriculture sector into the tax net," he suggested the recommendations and added that agriculture of the country contributes 23 per cent of national GDP but unfortunately its contribution in tax is only one per cent.

Raja Pervez Ashraf from Pakistan Peoples' Party stressed the need for sustainable economic policies and said that country can only prosper if the sustainable economic policies evolved with mutual agreement.

Ahsan Iqbal from PML-N said that the main problem in our economic system is lack of implementation. He said that if we implement all the policies made for the economic strength of the country, our economy would be strengthen to a great deal.

Regarding recent Pakistan-India trade agreement, Farooq Sattar said that his party fully supports the enhancing of trade between Pakistan and India.

Similarly Ahsan Iqbal said that regional trade is very important for the country's economic growth and there should be no harm in starting trade relations with India.

Former Minister for Information Sherry Rehman said that agreement between the two countries was of great importance for both the countries as it would help improve the trade and as well as political relations between the two countries.
This is the hard work of politics. This is the type of coming together and reaching compromises and consensus that will improve the lives of the poor and desperate. Anyone can put on a simple latha shalwar kameez and sleep under open sky. Play acting politics is fine for some. But moving the country forward requires more. When MQM, PPP, PML-N can come together and reach agreement, that is when things get done.