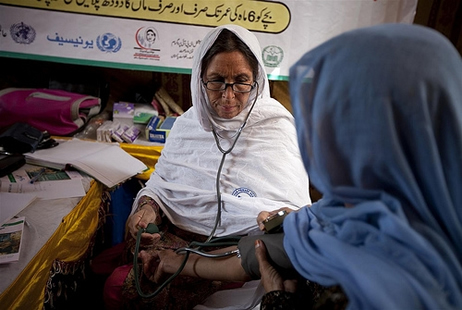 Our mothers sacrifice much to provide us with a healthy and productive life. They bear the burden of carrying us for the nine months before we are born, feed and watch over us while we grow, and teach us important lessons about life and love. And they gladly make these sacrifices with the reward being the dream to see their children grow into prosperous and successful adults. For too many mothers, though, that dream is never realized due to the dire problem of maternal mortality.
At a three-day workshop on 'Basic Minimum Family Planning Content Package for Medical Colleges', UHS vice-chancellor Professor M.H. Mubbashar reported the seriousness of the issue of maternal mortality in the nation.
Addressing the workshop, UHS vice-chancellor Professor M.H. Mubbashar said that maternal mortality rate in Pakistan was 276 per 100,000 whereas infant mortality rate was 78/1000 and neonatal mortality rate was 54/1000, which was alarming.
Thankfully, this pressing issue has not gone unnoticed among the political leadership of the country.
Dr. Ahmed Ali Shah, Aga Khan Hospital & Dean Faculty of Neurosurgery, College of Physicians & Surgeons of Pakistan, and MPA Sindh (PPP) recently moved a resolution in the Provincial Assembly urging the provincial and federal governments to make concerted efforts in controlling maternal morality. The resolution was passed unanimously.
Dr Shah said that rural women had had no access to healthcare services due to extreme poverty.

He said the country had not made any significant progress in reducing the maternal and infant mortality rate.

Humera Alwani said around 3,000 expectant mothers and 50,000 infants died in Pakistan annually, a death rate higher than the one claimed by terrorism and other incidents of crime.

She said there had been an urgent need for maternity homes in the province.

Alwani pointed out that there was only one maternity home for a population of 1.8 million in Thatta district, constructed during the first tenure of Benazir Bhutto's government, but its budget had not been approved so far.
While Chairing General Assembly of the Women Parliamentary Caucus (WPC) yesterday, Speaker National Assembly Dr Fehmida Mirza (PPP) noted that 30,000 mothers die and 400,000 mothers are incapacitated every year due to something normal as pregnancy.
After thorough discussion and taking into account the ground realities, WPC unanimously agreed that the health departments would be asked to strengthen the Lady Health Workers programme so that the rural population could be made aware of the drastic effects of early marriages, unsafe delivery procedure by untrained professional and necessary advice during the course of pregnancy.

It was also felt that the government should initiate Mid-wives training courses for the intending Mid-wives so that they could serve the rural women more effectively.

Fehmida Mirza stressed the need for involving religious scholars for creating awareness amongst masses about family planning since prevention is better than cure.
MNA Farahnaz Ispahani (PPP) also reported on Twitter the following statement:
Pakistan: 30,000 mothers succumb 2 something as normal as pregnancy. 400.000 became invalids due 2 preg. Almost all of this is preventable.
We owe our mothers everything as they have given us life, love, and a future. Too many mothers are unable to see the reward of the smiling faces on their children due to preventable injuries and death. We can wipe out this plague of maternal mortality by strengthening health programs and expanding access to neonatal and maternal care. Our mothers deserve nothing less.